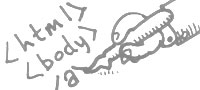 Company Logo
Client: Tumped Duck
This logo was created for an Etsy vendor. The design was first drawn by hand, then converted into vector art with text to ensure flexibility of scaling.

Graphic Design
The Stone Bunny, Inc.
Tumped Duck
Web Design
Sapronov & Associates
Renaissance Dance Database
The Project Archive
Odyssey Charter School
DCW, Inc.
iPhone/iPad Apps
Single Track Music Player